Arrests and Convictions
After an appeal, on December 21, the higher-instance court overturned the decision of the Kastryčnicki District Court of Minsk of December 7, according to which musician and poet Uładź Lankievič was sentenced to 15 days in jail. By that day, Uładź had served the whole term. 
Jahor Šumski, photographer and designer, was detained near his home in Minsk on December 20, was sentenced to 13 days of administrative arrest.
Aleś Maŭčanaŭ, an actor, was detained late of December 27 in Minsk as he was holding a white-red-white flag in a one-man picket. On December 28 he was sentenced to 11 days of administrative arrest.
Andrej Prystaŭka, a resident of Brest, has been detained for the seventh time. On December 28, a court sentenced Andrej to 15 days in jail and ordered the destruction of the flag with the Pahonia emblem confiscated from the detainee. 
Uładzimir Jahoŭdzik, a children's writer, was detained on December 27 while heading to the river to feed birds. The writer spent the night in the Cantralny District Department of Internal Affairs and the following day was fined 30 basic units [€257].
---
Pressure, Dismissal, Ban, Immigration
Uładzimir Puhač, a musician, member of the Coordination Council, was summoned for an interrogation by the Investigative Committee on 23 December, it lasted for 3,5 hours.
At the end of October, five talented professionals were fired from the National Academic Bolshoi Opera and Ballet Theatre for daring to speak out against violence in the country before one of their performances. They were conductor Andrej Hałanaŭ, soloist Ilya Silchuk, concertmaster of the orchestra Rehina Sarkisava, musicians of the orchestra Ała Džyhan and Alaksandra Paciomina.
Most of them left Belarus: Rehina Sarkisava and Andrej Hałanaŭ – to Lithuania, Ała Džyhan – to Switzerland to her daughter, Ilya Silchuk- to the United States. Alaksandra Paciomina remained in Minsk.
Rehina Sarkisava, a concertmaster and first violin of the Bolshoi Theater orchestra, fired in late October, left for Vilnius. 
On December 3, she received a call from the police department who wanted her to show up on the summons. Rehina immediately packed her bags and left for Vilnius.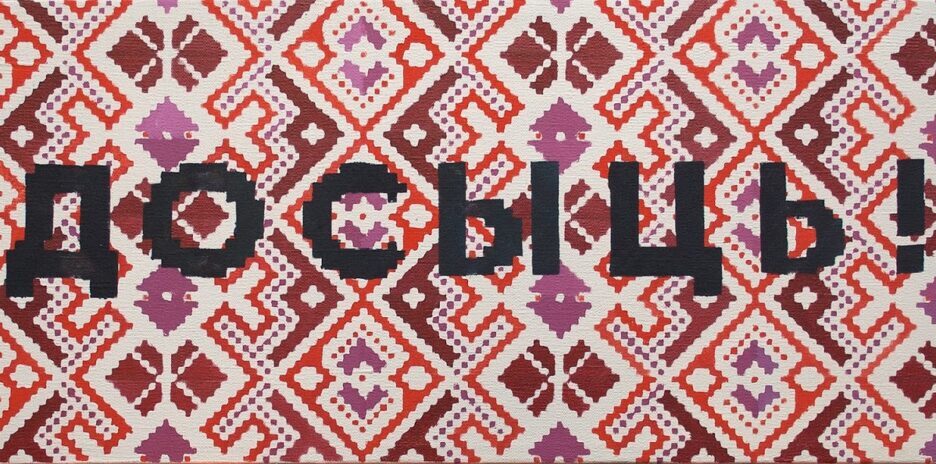 In 48 minutes after the opening, the Michaił Savicki Gallery in Minsk closed the exhibition "Enough", an international project of artists. Dissatisfaction was provoked by Žana Kapuśnikava's block, some of her works reflected current events and contained different versions of the word "enough" in the Belarusian language.
---
Repressions for the Symbols
Viktar Stukaŭ, a human rights activist and journalist from Polack, was fined 10 basic units [€90] for a flag on his balcony, after having been kept behind the bars for 72 hours.
Kastuś Lisiecki, the editor of the Rodnaje Słova literary magazine, bass guitarist of the band Recha, was fined 20 basic units [€275] for a flag in the window, a teacher of the 68th school in Minsk complained about it to the police.
Zmicier Trućko from Biaroza was detained by his apartment and for 72 hours kept in a remand prison for the white-red-white flag on his balcony. The case was sent for revision.
On December 26, several residents of Sierabranka district in Minsk organized a run in Santa Claus costumes, during which they gave candies to children. They didn't chant any political slogans and had no flags, but 4 buses of OMON arrived and detained the participants. Hanna Zahurskaja  received 20 days of arrest, Volha Sierahłazava was fined 20 basic units [€170].
---
Cultural Resistance
The Belarusian Culture Solidarity Foundation and creative project Freedom Belarus presented a collaborative photo project. Its heroes are creative people who suffered during the 2020 protest: journalist Natalla Łubnieŭskaja, actress Alena Hiranok, duo VAL, musician and artist Andruś Takindanh, musician and teacher Leanid Paŭlonak, gymnast and former Cirque du Soleil artist Siamion Bukin. Each of them showed what the concept of "FREEDOM" means to them.
A virtual museum of flags of neighbourhoods, districts, cities and towns, regions and diasporas has opened. 
Premiere of the animated video for the song "Freedom", a Belarusian version of the legendary song "Kocham wolność" by the Polish band Chłopcy z Placu Broni, performed by Zmicier Vajciuškievič
An interactive online show Hodny Dvor (Worthy Yard) took place for the third time. It's an online gathering that conveys the atmosphere of the same gatherings of neighbours which have become a new tradition for thousands of Belarusians. 
Website "Nasha Niva" made Top 20 of the Belarusian musical videos of 2020.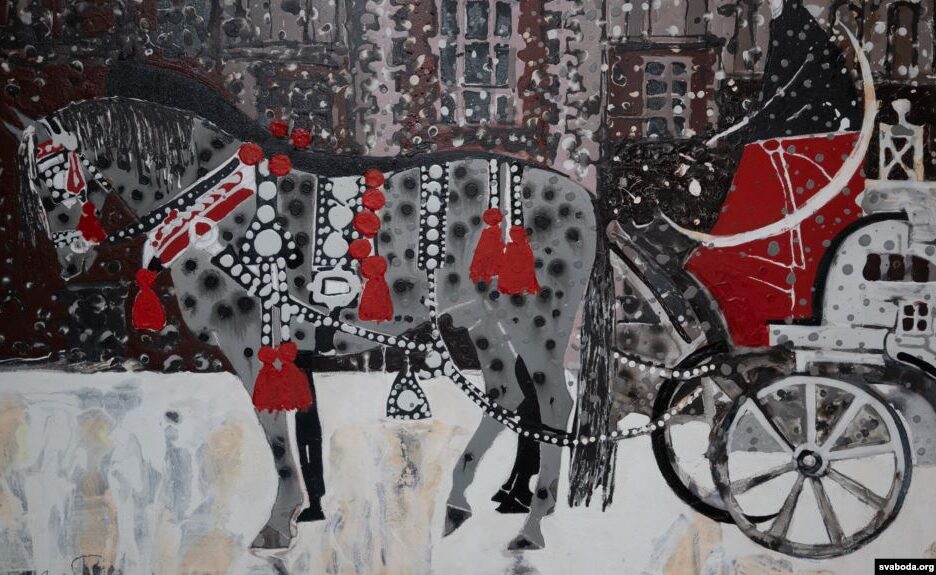 An exhibition of Christmas horses has opened in Hrodna. Valancina Šoba, an artist and author of the exhibition, says: "We now have one main horse – Pahonia. [Pahonia is the historical coat of arms of the Grand Duchy of Lithuania, was also the official emblem of the Belarusian Democratic Republic in 1918 and of the Republic of Belarus from 1991 to 1995. It's now one of the symbols of resistance along with a white-red-white flag.] Automatically it turns into a Christmas gingerbread horse. Snow, horses, so beautiful, a Christmas tale … It is a very special holiday, a holiday of wishes, the horses are also special. I hope that all our wishes will come true." 
Volha Šparaha, philosopher, lecturer at ECLAB, member of the Belarusian PEN Center and the Coordination Council, held an online lecture-talk "Results of Belarus 2020: women find new strength" on women's protests and prospects for the development of the women's movement in Belarus.
Uładzimir Ceśler's new piece "Judgement Day".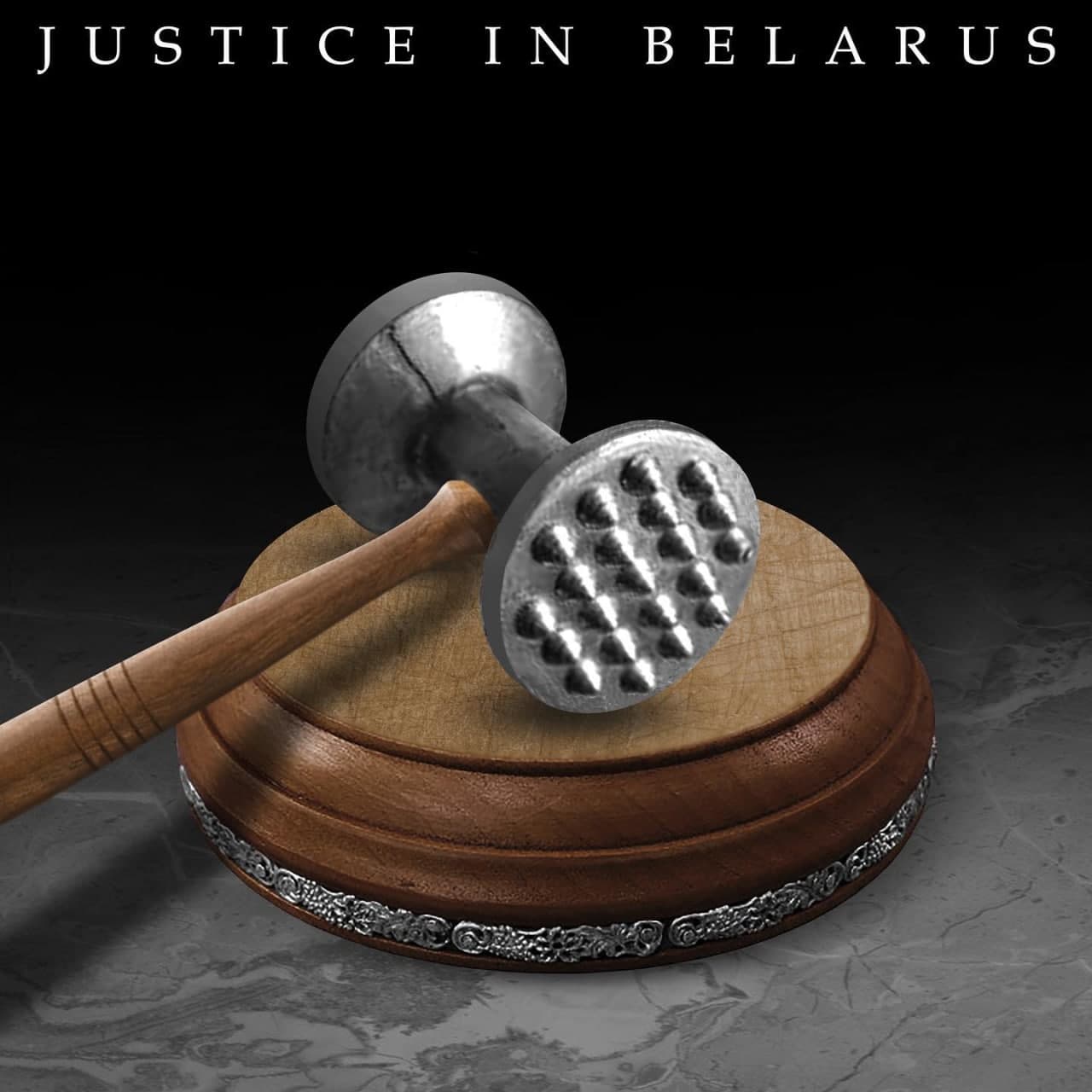 ---
Voices of Belarusian Culture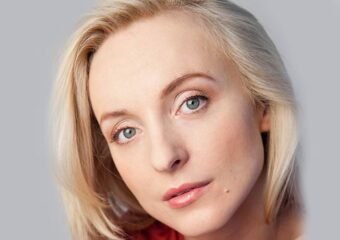 Sviatłana Anikiej, an actress of the Kupala Theater, who left the theater in protest along with the others, the best actress according to the 15th All-Polish Festival of Contemporary Drama, who temporarily left Belarus for Poland.
"When shopping, I'd only buy the most basic things, only what doesn't feed the authorities. It was very stern. We all have our ways of resisting this system, regime. Every day it becomes like a monastery of some kind. It's complete asceticism in life, but people are ready to endure whatever if it helps to end these terrible times, these murders, this horror."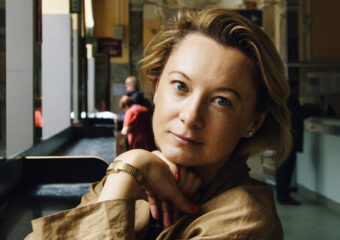 Valžyna Mort, a poet from Minsk who lives in Ithaca, New York, where she teaches at the prestigious Cornell University, gave an interview to Radio Svaboda. Valžyna's poetry collection "Music for the Dead and Resurrected" published this year, named one of the Best Poetry Books of 2020 by The New York Times.
"We see how everyone is working now to remember, because memory is action. No wonder people get harsh sentences for writing words on the pavement: we will remember, we will not forget. To remember, you need to be able to notice, you need to be able to notice small details, notice these inscriptions on the walls, notice each other, know each other. What is happening now is just incredible. This is real poetry embodied in the whole country. This is art. This is what art does – notices and remembers. And now our whole country is doing it."
---
International Solidarity
'Kupalinka' from Three Belarusian Folk Songs performed by Royal Scottish National Orchestra Principal Cello Aliaksej Kisialoŭ and composed by RSNO Principal Horn Christopher Gough.
An exhibition "Żyvie Belaruś" has been organized by the Śrem Museum and the Poznań branch of the Association of Polish Artists and Designers: Aleks Nowitski, Ales Pushkin, Anton Snt, Ksenia Vysotskaya, Mark Maksimovich, Sergey Shabohin, Vitaly Degtyarev, Wladimir Metelski and Włodzimierz Bludnik participated in it. Some of them have been living in Poland for years, others in Belarus.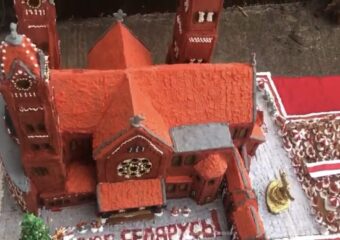 Velida Kent, a teacher and artist who's been creating gingerbread houses since 2008, has created a gingerbread composition showing the Minsk Red Church Cathedral, "Long Live Belarus" slogan and a group of protestors.
The premiere of the play "Breathing Together" – testimonies of participants of the events after August 9 in Belarus, took place on December 21 at the Russian Drama Theater in Lithuania.
Spotlights on contemporary Belarusian poetry published in a German volume of texts Macht statt Gewalt oder: Gewalt statt Macht (Belarus: Schritte zur Freiheit oder: Repression, Schikane, Terror). https://www.zeitschrift-osteuropa.de/hefte/2020/10-11
A solo concert of Belarusian opera singer Marharyta Laŭčuk with accompaniment of a Lithuanian pianist Justas Chaponis took place on December 27 at the Radziwill Palace in Nieborów, Poland, at the initiative of Maciej Radziwill.
---
Download the pdf-version of issue 12 of Cultural Resistance Monitoring
The newsletter was prepared by the Belarusian PEN Center in cooperation with the Belarusian Cultural Solidarity Fund.
The information partner is the portal TuzinFM.by