Arrests
Henik Lojka, a renowned sculptor who designed the Tadeusz Kościuszko monument in the village of Kosava, in the western part of Belarus, was detained at a rally in Minsk on November 1. On November 3, he was sentenced to 20 days of administrative arrest.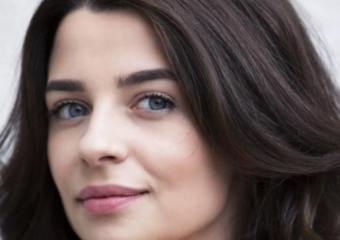 Alesya Klachko, an actress of the Belarusian Army Drama Theater, was detained on November 2, under Article 23.34 of the Code of Administrative Offences (violation of the order of organizing or holding mass events). 
Alesya took part in the creation of the Freedom Belarus video, after which her house was searched. On November 3, Alesya was fined 30 basic units (262 Euro).

Tatsiana Haluza, a lecturer at Minsk State Art College and a choir conductor, was detained on November 2. Tatsiana was fined 30 basic units (262 Euro) for "picketing at the Bolshoi Opera and Ballet Theater." 
 It is likely that the detention of conductors is connected with the hunt for the so-called "flying choirs". According to Belarusian media outlet Nasha Niva, the police are in search of musicians who direct "flying choirs", i.e. groups singing so-called opposition songs and hymns (e.g. God Almighty, Pursuit, Walls, We Long for Changes) to boost buoyant and fighting mood of Belarusians amid post-election protests.             
About 25 musicians from different music projects and collectives (Vuraj, TonqiXod, Irdorath, Dee Tree, Mutnaje Voka, Recha, Nagual, Philharmonic, etc.), have been detained in Minsk over the week. They received from 7 to 15 days of administrative arrest.
These are politically motivated detentions for expressing their active civic position and supporting the spirit of the protests. 
Paviel Horbach, a poet and journalist, was detained after having performed in a neighbourhood in Minsk on November 6. On November 9, Paviel was sentenced to 15 days of arrest for performing his poetry. 
At the attempt of a peaceful protest march on November 8, more than 1000 people were detained in Minsk, among them Alyaksandar Zhdanovich, an actor of the Maxim Gorky National Academic Drama Theatre, the legendary host of the TV show "Kalykhanka" (Belarusian for Lullaby) on Belarusian TV; designer and artist Uladzislau Stalmakhou and his daughter, designer Nasta Stalmakhova; producer and director Yauhen Shapchyts; one of the leading Belarusian historians and linguists, the only specialist on Medieval Latin in Belarus Alies Zhlutka; actor and theatre director Yura Dzivakou-Dusheuski [Jura Dziwakou-Dušewskij] (fined 10 basic units, 88 Euro); Mikhail Tarelka, a scholar of Belarusian Tatars, the only specialist on Tatar manuscripts in medieval Belarus; Alena Tracciakova (fined 10 basic units, 88 Euro), translator; a former actor at Cirque du Soleil Siamion Bukin, photographer Volha Bihel (the case sent for revision). 
Aliaksandra Hushcha, an artist and designer, was fined 22 basic units (190 Euro) on November 6, for participating in the women's march on October 6. Aliaksandra is known all over the world: at a young age, she was caught in a terrible fire and lost her hands; still, she lives a full life: she draws, dances, and does cosplay. So many people came to the court to support Aliaksandra that the court room was able to accommodate only a third of all.
---
Pressure and Dismissal
Aliaksandar Marmysh, a sound director at Radio Hrodna, quit on November 2, facing a moral choice. "You can't compromise your beliefs," he posted on his social media. 
6 to 14 students were expelled from the Belarusian State Academy of Arts on November 2.
The staff of the Academy recorded a video appeal in support of the students. "We openly oppose the expulsion of students and consider the actions of the Academy's administration illegal, as the students were expelled for their civil position, and there were no other reasons," the appeal states.
Minsk International Film Festival Listapad was canceled by the Culture Ministry a day before its scheduled opening on November 6,  due to the unfavourable epidemiological situation. However, the movie theatres in Minsk continue working and no other public events have been cancelled. 
A few days prior to that, the organizers removed two traditional prizes from Lukashenka – the award "For Humanism and Spirituality in Cinema" and the prize "For Preservation and Development of Spirituality in Cinema" from the awards. 
"The hero of all our films is a free and creative person. To state this is our mission here and now," the festival team commented. 
Open Letter from the Belarusian Arts and Culture Community
Over the three days, a thousand Belarusian creatives signed a public appeal in which they condemn the dismissal of the leading Belarusian musicians for openly expressing their civil position, and demand an end to pressure on Belarusian cultural and artistic figures.
For the original signatories list see the link.
---
Cultural resistance
On November 4, 188 employees of the Grand Opera and Ballet Theatre recorded a video appeal in which they stood up for the dismissed colleagues.
Free Choir, or Flying Choir, is called so because it performs literally a couple of songs in a random place and disappears. It was created immediately after the election and joined by various people, first employees of the Philharmonic, and then by other musicians. Knowing that each of the participants can be traced and arrested, the musicians, however, keep on.
"We know they can come for each of us. They already have. But what other options do we have? Brave people think about the future. By taking action we overcome fear. We are doing this for the future of the people. But we also have to think about our own future. This isn't a game. We fight for ourselves."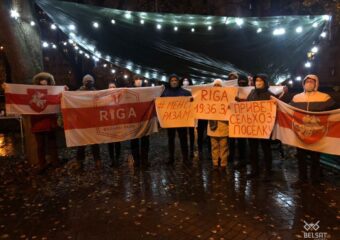 Despite the constant growing pressure from all sides: detentions of musicians and leaks of personal data of the residents supporting the activities of the neighbourhood communities, unpleasant weather conditions, etc., people organize events and do their best to protect the artists from illegal actions of the authorities.
Lyavon Khalatran who ran the OK16 ruin bar in Minks, was a volunteer at Viktar Babaryka's headquarters and has been arrested since August 14, has been sending letters with very touching and creative drawings, fairy tales, and origami for his son and wife to support them. See the link for some photos and videos of them.
Sviatlana Tsikhanouskaya supports cultural figures
Sviatlana Tsikhanouskaya thanked artists, musicians, performers and all the art workers who have been supporting peaceful Belarusian protests, both at home and abroad.
"Thanks to you, our peaceful protest has a voice – we hear it in your poems. Our peaceful protest has anthems – they are the songs you sing. Our peaceful protest has symbols – street art, posters, and murals that you create. And most importantly, our peaceful protest has a goal – to build a new Belarus, where there is freedom of creativity, freedom of expression, and freedom to be a human".
---
Voice of Belarusian Culture
The world-famous designer and artist Uladzimir Tsesler [Vladimir Tsesler], whose works have been exhibited in the Louvre, as well as in museums and galleries of Amsterdam, Budapest, Sofia, Warsaw, etc., joined the Coordination Council at the end of August and had to leave Belarus soon afterwards because he could be persecuted for publishing his provocative election-related designs.
"Love wins no matter what. The nation is united now. It seemed impossible to me – but it happened", Uladzimir says.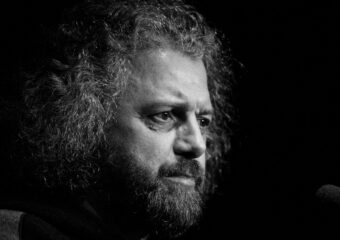 Dzmitry Strotsau [Dmitry Strotsev], a poet and activist, was released on November 3 after 13 days of arrest (a few steps from his house, he had a sack put over his head, then he was taken into a minibus to the KGB and later to the detention centre). He shared his "impressions" of the arrest with Nasha Niva. 
"I provided a lot of publications related to the election, way too many, and I freely shared my opinion on Facebook. They are obsessed to find the puppeteers and organizers, but I had nothing new to tell them."
Siarhei Kurylenka, ex-director of the Hrodna Drama Theater fired for joining the nationwide strike last week, 
"We have to take steps, no matter how difficult they may be for us. Everyone should do something, every bit we can, otherwise this horror will never end."
---
International Solidarity
A large-scale musical marathon "We are together!" involving Belarusian and Ukranina musicians, took place in Kyiv on November 4. Among the participants there were Brutto Nostra, NaviBand, Naka (Belarus), "WITHOUT LIMITS", "Druha Rika", "SKY", "DahaBrakha", Kozak System (Ukraine).
An exhibition "Belarus // Art of Resistance" took place in Amsterdam on October 30 – November 7, presenting the stories of resistance and citizens' initiatives, self-organization, as well as the art forming a new grassroots democracy in Belarus. An online platform cultprotest.me has a selection of paintings, video performances, and other visual examples of resistance. 
Israeli civil society representatives with Belarusian roots, including cultural figures, addressed the Prime Minister of Israel, urging him to support the protest of the Belarusian people against the dictatorship and not to conceal the facts of violence and repression. "Israel is a country built by Holocaust survivors and their descendants. History teaches us that the terrible events of the mid-20th century happened because the world had been silent about it," the authors of the appeal reminded.
On November 5, PEN America released a statement in which it calls for additional focus on persecution of cultural leaders. 
"We welcome this report, which marks an important international effort to document the human rights violations that have occurred in Belarus related to the August elections," said PEN America's Eurasia program director Polina Sadovskaya. "Although we would have appreciated a greater emphasis on the role of cultural figures in this protest, and the associated impact of the crackdown on cultural rights, the report is otherwise comprehensive, and its findings should raise global alarm at the outrageous violations that have taken place in Belarus."
See the link for the complete report.
PEN International has released a statement condemning the repression against Belarusian writers, artists, and cultural workers. 
"Writers and artists in Belarus are at the centre of peaceful resistance against violations in their country, using their writings, artworks, music and theatrical performances to expose the abuses of the Lukashenko regime. For this they are being singled out as targets for attack. Peaceful protest and artistic freedom go hand in hand as rights that must be respected", says Jennifer Clements, the International President.
---
Auction to Help Belarusian Cultural Figures
Guitar which the leader of the legendary rock band "Krama" Ihar Varashkevich

used to compose some of his cult songs. 

Self-portrait of the leader of the rock band Daj Dorogy Yury Stylsky

.

Custom logo design by Uladzimir Tseler

for your brand or you exclusively. 
All the funds raised will be directed to support representatives of the Belarusian cultural community who have suffered for their civil position.
Follow this link to donate to the fundraising campaign supported by PEN Belarus.
Download the pdf-version of the fifth newsletter of Cultural Resistance Monitoring
The newsletter was prepared by the Belarusian PEN Center in cooperation with the Belarusian Cultural Solidarity Fund.
The information partner is the portal TuzinFM.by