Deaths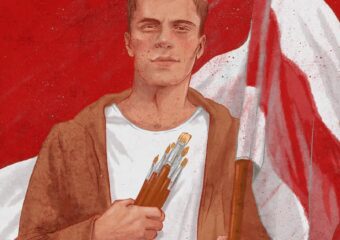 Raman Bandarenka, died on November 12, fell victim of the bloody regime. On the night of November 11, Raman went down to the yard of the house he lived in to stop the masked policemen from cutting off the white-red-white ribbons which the residents had used to decorate their yard. Police have been raiding neighbourhoods all over Belarus regularly, colliding with the locals, attacking their peaceful gatherings, and arresting people. 
That night, Raman was caught and beaten by six masked policemen, kidnapped and then battered mercilessly on the way to and at the police station. Later that night he was brought to hospital in a coma. He didn't survive. 
Raman was an artist by education, he taught children at the events organized by the local community to draw. 
The whole Belarus is grieving over this death, and there's been a wave of solidarity in towns and cities, on the streets, at plants, in the hospitals and universities; this has been a deep wound for all of us. 
---
Arrests
On November 9-11 court hearings took place for the detained the week before. Musicians from the band Recha: Andrus Takindanh, Ihar Asidchanka, Kanstantsin Lisetski, and Leanid Paulionak received 15 days of administrative arrest each, so did producer and director Yauhen Shapchyts. Alies Zhlutka, one of the leading Belarusian historians and linguists, the only specialist on Medieval Latin in Belarus, and Uladzislau Stalmakhou, designer and artist, have been sentenced to 10 days of arrest.
An actor and TV host Alyaksandar Zhdanovich's sentence is 9 days of arrest, and Mikhail Tarelka, a scholar of Belarusian Tatars, the only specialist on Tatar manuscripts in medieval Belarus, received 5 days in jail. Nasta Stalmakhova, designer, was released with a fine of 20 basic units (180 Euro) after having spent two days in Zhodzina detention centre.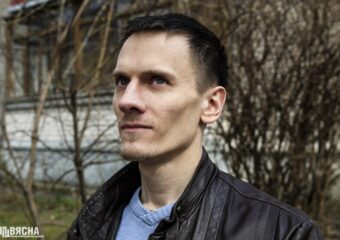 Mikola Dziadok, an anarchist movement activist, former political prisoner, laureate of PEN Belarus award in 2017 for the book The Colors of the Parallel World written in jail, political blogger, was arrested on November, 12 as a suspect on "public order offence case".
His house was searched, and Mikola himself was beaten severely, after which he was forced to speak to the camera for the official channel of the Ministry of the Internal Affairs of Belarus.

Zmitser Sasnouski, the leader of the medieval folk band Stary Olsa, was detained in Kletsk on November 13, while standing in a solidarity chain; he spent three days in the remand prison, deprived of food; on November 16, Zmitser was fined 30 basic units (267 Euro).
In Minsk, Ihar Andreyeu, an actor at the M. Gorky National Academic Drama Theater and Paviel Hontsa, director of the Men's Choral Group Uniya  have been detained. Paviel has been released after having spent three days in Akrestsina detention centre and been fined 810 BYN (267 Euro).
Among 1000 detained on November, 15, there are:
– Aliaksandr Tabolski, a guitarist and manager of Naviband;
– Barys Pastarnak, publisher. He's published books by such Belarusian writers as Svetlana Alexievich, Viktar Martsinovich, and others. Barys was charged with damaging police property, but he suggested that the investigators should watch the footage the riot police took. As a result, the riot policeman refused to testify and Barys was released.
– Aliaksandr Sakalou, sculptor. He created the statuette for Michal Aniempadystaū Award given by PEN Belarus for the best Belarusian-language book cover design.
– Ryhor Laikou, a musician from PyLai band, was beaten severely and got to hospital with head trauma;
– Katsiaryna Sumarava, artist;
– Mikhas Mishuk, the artist who created one of the first street art in Kastrychnitskaya, one of the most creative streets in Minsk;
– Yauhen Attsetski, photographer;
– Ilia Yasinski, an actor of the Republican Theatre of Belarusian Drama, beaten severely, hospitalized;
– Siarhey Hadziayeu, a DJ at Radio Hrodna;
– Kanstantsin Charuhin, writer who has disability group 1; in 2010 he was detained and charged for "clapping hands", which was impossible because he'd lost his hands several years prior to that;
– Taras Krutskih, member of the BelarusDocs festival, journalist, film critic, administrator of the channel about Belarusian cinema "Sacred Belawood";
– Tatsiana Haurylchyk, director, documentary filmmaker (released 15 hours after detention).
According to the witnesses, the detainees who spoke Belarusian, were marked with paint and then beaten.

---
Pressure and Dismissal
Ihar Kulikou, translator, poet and laureate of several awards founded or co-founded by PEN Belarus, a lecturer at the Belarusian State Academy of Arts, was summoned to the commission at work and made to write an explanatory note about his participation in the protests. 
Katsyaryna Vadanosava, a singer and former TV presenter on Belarus-3 TV channel, was summoned to the police department for a "conversation". When Katsyaryna refused to do that, she was told that they could come and "take" her near her house and send her children to a shelter. Katsyaryna is one of those state television employees who resigned during the August strikes.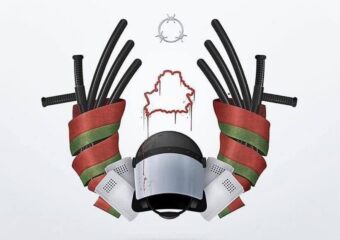 Katsiaryna Pytlieva, an ex TV presenter from Belarusian state television company, has been threatened with administrative case for a publication on her social media.
The picture from Katsiaryna's publication
On November 9, three more students were expelled from the Academy of Arts, they are Raman Davydousky, Tsimafey Sheleh and Uladislau Patapchyk. For the beginning of November, more than 140 students, as well as at least 15 professors, have been dismissed from Belarusian universities for their active civil position and participation in the protests.
Uladzimir and Nadziezhda Irdorath, musicians of the band Irdorath and pedagogs, were fired from the educational centre they had worked for years on November 9 for their civic stance and participation in the street concerts for the communities in Minsk.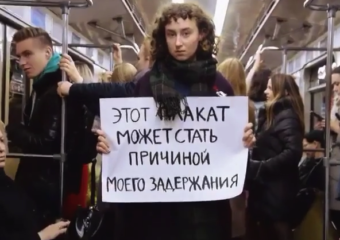 Ulyana Niauzorava, the artist who had a powerful performance (the sign says, "This sign can be the ground for my detention") in the Minsk metro in October, has had her apartment searched.
Ulyana said that the search was connected with the criminal case opened against her sister, an activist and student at the Belarusian Academy of Arts Maryia Kalenik. 
On November 12, twelve employees of the New Theater in Minsk officially joined the strike. They are claimed to have caused a loss of 15,000 BYN (4950 Euro) for the allegedly disrupted performance and are being sued.
Yahor Prystauka, a renowned professor at the Belarusian State University who has taught ancient languages and literature at a number of faculties, including the Schools of Philology, Law, Chemistry and Biology as well as Theology, is fired for taking part in solidarity actions with students and his colleagues. 
Anna Zlatkouskaya, a writer who regularly participated in women's marches and wrote several texts that became base for touching videos ("I'm tired, mom, to answer the calls", "Don't wait for home, I'm in a police van"), had to leave Minsk for Vilnius as she feared criminal prosecution. Before that, Anna received a summons from the police.
---
Cultural Resistance
Residents of one Minsk neighborhood expressed their solidarity with the actor and former host of one of the warmest TV shows for children on Belarusian TV Alyaksandar Zhdanovich sentenced to 9 days of arrest. On the house's wall they have made a projection of the illustration, where Alexander is depicted as his character Maliavanych – the host of TV-program "Lullaby".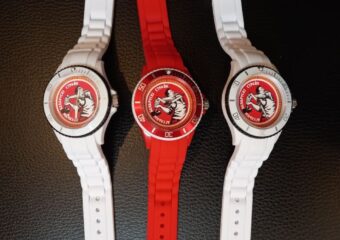 The strike committee received a wonderful parcel, wrist watches which Vyachaslau Sikora, a theater and film actor, director, screenwriter and "citizen of his country", presented in solidarity with the workers who joined the strike.
He wrote that he also came up with the design for another series, "PRISONER 2020", for those who've been in jail.
The Free Choir dedicated their album "Worthy Songs" to Raman Bandarenka, a band Stary Olsa – a song. Pit Paulau also dedicated a song to Raman Bandarenka and all the Belarusians who took to streets despite the fear and died without seeing the victory. 
Artist Ania Redko dedicated her new illustration to Roman, and designer Uladzimir Tseler – two of his new posters.
Uladzimir Tseler's new posters
Belarusian performer group Exorcist Gesamtkunstwerk started a project Actions Against the Wall with this video, which has gone viral, and with their new piece they encourage artists from all over the world to join in. 
"In fact, what is happening in Belarus today is the struggle of society against the concrete wall of the repressive state system. Everyone's struggle for the right to be a person, not another brick in the wall", the performers say.
---
Voice of Belarusian Culture
One can support the musician Andrus Takindang, imprisoned for 15 days for playing a street gig for children and their parents, by listening to his latest album (in Belarusian)  and to the new single of the band Recha whose leader Andrus is.
The founder of Belarusian Culture Solidarity Foundation Siarhei Budkin shared his thoughts on how to support repressed cultural figures.
"We have accumulated this colossal creative potential, and we needed a trigger to help it come out. They say independence requires sacrifice, and Belarus didn't sacrifice enough in 1991. It sounds harsh, but nonetheless. Only a slap could start this process."
Belarusian Culture Solidarity Foundation helps the fired art workers to find a new job (which, unfortunately, is complicated by the conditions of the pandemic), register travel documents, and look for psychological help if necessary. When one needs to pay a fine, the person is helped to get in touch with the right fund. The foundation itself has just started to raise funds and ideas.
You can support them via PayPal and Webmoney.
Valeryia Valadzko, a singer, soloist of the bands Harotnitsa and KRIWI, who was fired from the public school for her views, told about her dismissal and the new Belarus. 
"A dictatorship can only exist in an atmosphere of fear. It revives the ugliest practices, for example, denunciations. But the unity of Belarusians is only growing as a result."
Eryk Arłoŭ-Šymkus, a musician who was detained at a rally on October 25 and has been released after 12 days of arrest, told about his ill-treatment and criminal case.
"They got me down on my knees and hit me on my thighs twice, with a truncheon, asking, 'What are you doing here?' I said I was hiding from the explosions of the stun grenades. After that, they beat me again with a truncheon on my left leg, saying, 'Where will you be next time?' I replied that I would be at home, and they took me to the police van."
On the van Eryk was marked with a marker and hit on his head; at the police department he was threatened with more beatings and rape, and completely different circumstances of the detention were recorded in the report.
Eryk also found out that he was a suspect under Part 1 of Art. 342 of the Criminal Code: preparation or active participation in actions that grossly violate public order. According to Eryk, they tried to accuse him of hitting a riot policeman or throwing stones at the Tsentralny District Department of Internal Affairs.
---
International Solidarity
Outdoor advertising banners with illustrations by Belarusian artists in support of Belarus have appeared in Vilnius. 
Photo by Beatričė Bankauskaitė
Aliaksandr Yasinski, Belarusian composer and musician who now lives in Prague, organized a campaign in support of repressed Belarusian artists and recorded a touching video.
An exhibition of solidarity A Womanly Face of the Protest organized by the curatorial group of Belarusians of St. Petersburg has opened in St. Petersburg and will last until December 10.
---
Auction to Help Belarusian Cultural Figures
Custom logo design by Uladzimir Tseler for your brand or you exclusively. All the funds raised will be directed to support representatives of the Belarusian cultural community who have suffered for their civil position.
Follow this link to donate to the fundraising campaign supported by PEN Belarus. 
Download the pdf-version of the sixth newsletter of Cultural Resistance Monitoring 
The newsletter was prepared by the Belarusian PEN Center in cooperation with the Belarusian Cultural Solidarity Fund.
The information partner is the portal TuzinFM.by