PEN Belarus' Monitoring Results 
PEN Belarus has been monitoring violations of human rights against cultural workers and cultural rights in Belarus (December 2019 – November 2020), and has presented the first results and data. The year-end report is to be released shortly.
---
Arrests and Convictions
Aliaksej Halubec, dj Delos, detained on December 13 and having spent two nights in Akrescina remand prison, was fined 30 basic units [€265]. 
Lera Łazuk, an artist detained on Sunday, December 13, was sentenced to 13 days in jail on December 16.
Sviatłana Kuprejeva, the daughter of the writer Mikoła Kuprejeŭ, a former member of the initiative group of Viktar Babaryka and a close friend of their family, has been in custody since July 11 on charges of tax evasion. On December 11, the court extended her detention for another two months.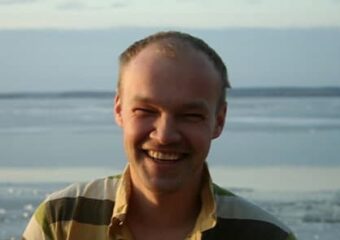 Dzianis Filipienka, a musician from Rahis band, who was detained on December 14 to serve a 13-day administrative arrest, received another 13 days on December 16 (for participating in a protest on October 25). 
Detentions on Sunday, December 20:
Jahor Šumski

, photographer and designer, was detained near his home in Minsk.

Andrej Jankovič

, a cartoonist who became famous after a rally on August 30, when he protested in the image of a "fake president" and spent 7 days in jail for that (earlier he had served 10 days of administrative arrest for august 16), was detained in Hrodna.

Anton Silič

, a street musician, was detained in Hrodna.

Viktar Jakubaŭ

, candidate of Historical Sciences, Associate Professor of Polack State University. He was detained as he was returning from a children's party in his neighbourhood.
---
Pressure, Dismissal, Ban
Andrej Bastuniec, Chair of the Belarusian Association of Journalists (BAJ), journalist, on december 16 was interrogated as a witness in a criminal case, instigated under Article 361 of the Criminal Code (calls to actions aimed at causing harm to the national security of the Republic of Belarus).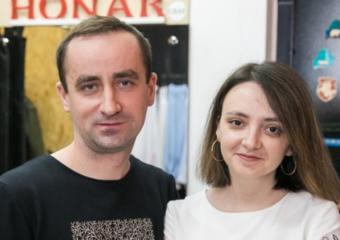 The Doŭnar family, founders of the Honar clothing brand, are threatened with "socially dangerous" status for an alleged photo from the march on social media, but neither the family saw the photo nor were they explained the reasons for the allegations.

Alaksiej Strelnikaŭ, a theatrical critic and lecturer at the Belarusian State Academy of Arts, was fired.
"On November 19, I announced to the academic administration of the Belarusian State Academy of Arts about the beginning of my strike in connection with the events in the country and the way the Academy communicates with its students and professors. Today I received the order of my dismissal for absenteeism.

I started working at the Academy in 2013 and wanted my knowledge to benefit students and graduates. I'm still convinced that we have a future, while those who are frantically engaged in repressions don't."
Natalla Lavanava, who worked at the Center for Experimental Directing at the Belarusian State Academy of Arts, was also fired for having joined the general strike. 
The work of photographer Valer Viadrenka was not allowed to be exhibited in the gallery "High Place" in Minsk. The reason could not be explained, the employees of the gallery only referred to some "regulations" defining which works can be exhibited and which can't.
Andrej Šaparaŭ, a designer and artist, member of the Belarusian Union of Designers, had to leave the country together with his wife, Sviatłana Piatuškova, also an artist. The reason for their concerns about their safety was a call from the police regarding the image Andrej posted on his personal Facebook page.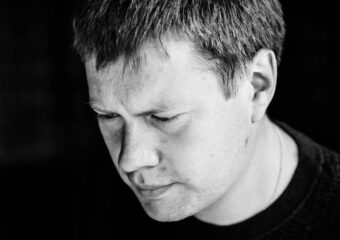 Kanstancin Jaśkoŭ, a composer, left Belarus together with his family. 
As he himself explained, the situation for people who condemn violence and lawlessness is becoming more dangerous every day. The last straw was the news about the restriction on leaving Belarus.
---
Repressions for the Symbols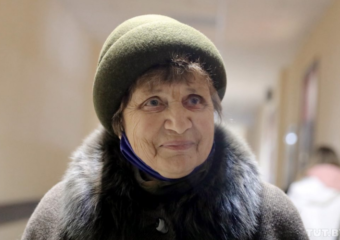 Jelizaveta Bursava, a 87-year-old Halacaust survivor from Belarus, a multiple champion in shooting, until her retirement she worked as a teacher of Russian language and literature, on December 16 was tried under article 23.34 of Administrative Code for a white-red-white flag on her balcony (a mass event – picketing) and fined 15 base units [€130]. 
Three citizens from Minsk, including Andrej Macuk, a well-known both in Belarus and abroad specialist in the history of the 18th century Grand Duchy of Lithuania, were sentenced to 15 days ўа фккуые for celebrating a birthday in the yard, as they had a cake with "Pahonia", which is along with the white-red-white flag considered a good enough reason for arrest. 
Hleb Šapo, who was the director of several performances representing Belarus at the Junior Eurovision-2015 and 2017, the adult Eurovision in 2015, as well as the assistant director at the Junior Eurovision-2010 and 2018 in Minsk, on December 15 was sentenced to 10 days of administrative arrest for a white-red-white flag in his window.
Alaksandr Šarajbak from Hlybokaje town in Viciebsk region was fined 40 basic units [€350] for the flag over his house. 
Pavieł Marozaŭ, an activist from Pastavy, received 8 days of administrative arrest for the same reason. 
---
Cultural Resistance
Almost 500 songs were created this year by musicians from different countries under the influence of Belarusian protests. See the link for the playlist. 
Inna Afanasijeva, a Belarusian singer, released a new music video and spoke in support of the Belarusian people. 
"So much has happened over this time divided into "before" and "after"! But I know that Belarusians are the strongest and the most brave people who know how to love! I'm proud to belong to this nation, and I'm grateful to each of you for your love!"
The music project TryNići (Ivan Kirčuk, Siaržuk Doŭhušaŭ and Marharyta Laŭčuk) presented their video LITO (summer), a Belarusian folk song, which they dedicated to August 2020.
The director of the video is Jura Dzivakoŭ.
Students of three universities – Belarusian State Academy of Arts, Belarusian State University of Culture and Arts, and Belarusian State Academy of Music – organized the Student Association of Arts to support culture and student initiatives. 
The premiere of the interactive show Hodny Dvor (Worthy Yard) took place on December 17; it's an online gathering that conveys the atmosphere of the same gatherings of neighbours which have become a new tradition for thousands of Belarusians.
Dzmitry Stroсaŭ held an online reading of his poems "BELARUS IS OVERTURNED" about the last four months in Belarus, on December 15, with the support of PEN Belarus. 
The Belarusian Film Festival is taking place in Minsk on December 17-23.
 The festival shows the films which were part of the program of the canceled film festival Listapad and hosts two remembrance events dedicated to the deceased Luba Ziamcova, Maksim Haŭrylenka and Uładzimir Michajłoŭski who worked on the documentary project "Unknown Belarus".
The first single of the new Belarusian music project with female vocals PLATER, named after the strong, young and talented revolutionary of the XIX century Emilia Plater, is dedicated to our mothers. 
"Today they may be walking by our side like never before. They wait for us at home every night, they go out with us, they help us get prepared for a "walk", they wait by the detention centers and the police departments, they are always with us, no matter how old we are and what has happened to us."
See the portraits of her inmates that Natalla Chierše, a Belarusian who was sentenced to 2.5 years in prison for taking a mask off a riot policeman during the women's march on September 19, made.  
Children's drawings on the walls of a street in Minsk.
Siarhiej Michałok and the band Drezden presented a new music video Barrikado, a kind of manifesto in response to what is happening in Belarus.
The second Women's Poetry March took place online on December 19, with the readings from Maryja Badziej, Volha Markitanava, Maryja Martysievič, Hanna Otčyk and Taćciana Svietašova. 
An online festival "Music's by your side" took place for the second time, as the first one was warmly welcomed by the audience. The participants were musicisians Lavon Volski and Pavieł Arakielan, Illa Čarapko-Samachvałaŭ ("Петля Пристрастия", "Кассиопея"),  Andrej Mielnikaŭ, bands RECHA, LEIBONIK, Re1ikt.
---
Voices of Belaurusian Culture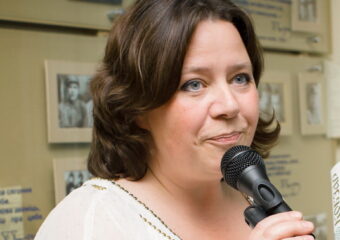 Hanna Sieviaryniec, a teacher, writer, literary critic, has shared her thoughts on the results of 2020.
"For me, as a person who promotes literature, the main result is the incredible longing people have for the authentic culture. Two years ago 5-7 individuals would appear at literary events in a warm museum, and now 50-70 people can stand in the cold at their neighbourhood gatherings: adults, children, dogs… You talk for an hour and a half – they listen, you could talk for three hours and they would listen. Longing for the authentic culture is such an expensive value, for the sake of which we have to work hard to have something to offer these people."
Kacia Ivančykava, a Belarusian singer from the band IOWA, spoke about the events in Belarus, about honor and self-esteem.
"We can be proud of ourselves, that we know what we want. We respect ourselves, our opinion. We know that we are this country – the people who live here, work at factories, bake bread, make bricks for houses, create music and develop art, unite in spirit, write books. These people should be proud of themselves, because even in prisons, in moments of adversity, they stay true to themselves."
Maksim Žbankoŭ, culturologist, media-analyst, cultural activist in his essay about the nature of revolution says:
"What do we see here and now? A strange mixture. The movement bypassing the rules. Legal insurrection. Unhurried walking maneuvers. Riot of "devil-may-care's". Criticism of power without fighting for power. Spontaneous alliances and street improvisations. Legalization of freedom in the complete absence of an ideological basis for mass action."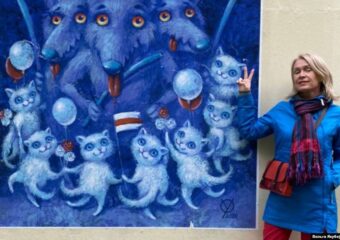 Volha Jakuboŭskaja, an artist and children's illustrator, an author of a series of pictures about cats and wolves.

"The time comes when you realize that you are not protected in your nest on a tree once this tree is shaken. I have no idea how to live with this burden. I believe that a person should live, do his or her job, love their country, love their children, their land. What's wrong with that? I want no violence here."
Cimate Suładze, a trumpet player who plays on the streets and at solidarity concerts for neighbourhoods and for this was sentenced twice, first to 13 days, then to 15 days of administrative arrest, on his experience.
"It felt like a real Nazi concentration camp with psychological torture. The radio played at full power there for days, with two different radio waves at the same time. During the day, we weren't even allowed to touch our beds. The bench was too small, and if I really wanted to lie down, I lay on the tiled floor."

---
International Solidarity
The exhibition of Belarusian art 'Before / After / 2020. Belarus' opened in Krakow on December 15 and will last until December 31. 
Among the participants are Stas Sugintas, Yana Chernova, Anastasia Rydlevskaya, Hanna Plotnikava, Anton Radionov, Mari Skakun, Aliaksandr Sakalou, Maria Stankevich, Maria Kosheleva-Likhota, Lizaveta Antropova.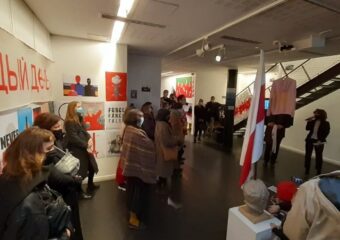 Belarus Protest Art exhibition has opened in the centre of Paris, just 200 metres from the Louvre. 
Julia Cimafejeva's diary "Days in Belarus" about the revolutionary events of summer-autumn 2020 has been translated and published in Swedish ("Dagar i Belarus").
Poems by Uładź Lankievič and Hanna Komar about the events of summer-autumn 2020 in Belarus have also been translated into Swedish and published in the Swedish PEN journal PEN / Opp, along with the translation of the essay "Fascism as Memory" by Alhierd Bacharevič.  
English PEN has launched a weekly round-up of the activities on Belarus. 
On 18 December, a webinar on the struggle for freedom of expression in Belarus was hosted by the European Parliament, including an online discussion about the role of writers, artists and performers in the ongoing struggle for free speech in Belarus. 
The Daugavpils Theater hosted a reading of Andrej Kurejčyk's play "Offended. Belarus(sia)".
The film "Persian Lessons" directed by Vadzim Perelman, that Ulad Karecki, a volunteer of the headquarters of Viktar Babaryka, political prisoner who has been in prison since August 13 and is suspected of organizing riots, worked on, is nominated for an Oscar.
Students, graduates and teachers of the animation faculty of the National Film Television and Theatre School in Lodz (Poland) made an animated video in support of Belarusians. 
Polish composers signed an open letter in support of Belarusian writers.
"We sincerely support Belarusian writers and all citizens of Belarus who are fighting for the right to a normal life in our common European home."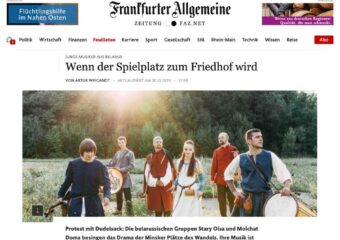 One of Germany's leading newspapers, FAZ , with a circulation of 350,000 copies and distributed in 148 countries, published an article about the work of the Belarusian bands Stary Olsa and Молчат Дома against the background of political events in Belarus.
The article was also published in the printed version of the newspaper (№294, dated 17.12.2020). 
---
Download the pdf-version of issue 11 of Cultural Resistance Monitoring
The newsletter was prepared by the Belarusian PEN Center in cooperation with the Belarusian Cultural Solidarity Fund.
The information partner is the portal TuzinFM.by