Presidential challenger Viktar Babaryka, a philanthropist and the former Belgazprombank CEO, and his son Eduard, a cultural manager and the head of fundraising platforms Ulej and MolaMola, were detained during the ongoing electoral campaign. Belarus' human rights defenders have recognized Viktar and Eduard Babaryka as political prisoners. The criminal case against Belgazprombank led to the seizure of paintings from Belgazprombank's corporate collection and paralyzed the work of the Ulej and MolaMola crowdfunding platforms.
Viktar Babaryka with support from Belgazprombank initiated and implemented the following cultural projects:
the international forum of theater art TEART (initially known as the Theater Week with Belgazprombank, 2010-2019),

Ten Centuries of Art in Belarus (2014) exhibition dedicated to the 75

th

anniversary of the Belarusian National Arts Museum,

the

Autumn Salon with Belgazprombank (2015-2019) aimed at highlighting the works by young Belarusian artists working in various forms of art (painting, graphic, sculpture, decorations, and installation).

He was also backing the cultural hub OK16, which has been in operation since 2017.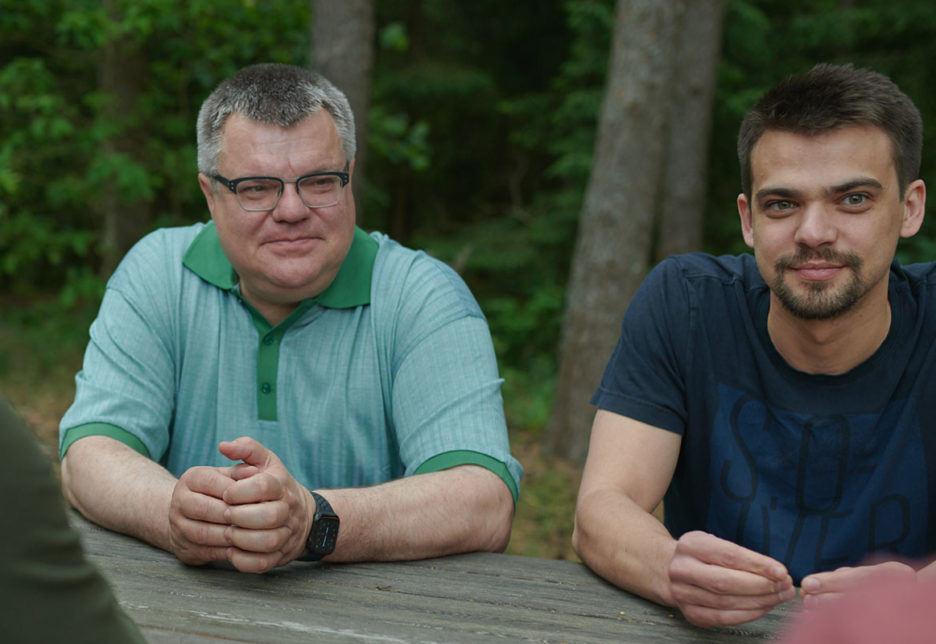 Віктар і Эдуард Бабарыка. Фота https://babariko.vision/ 
In 2018, Belgazprombank financed the publication of 15,000 copies of Svetlana Alexievich's five-volume collection of works translated into Belarusian as a gift to libraries across Belarus.
In 2015, Viktar Babaryka was recognized as the 2014 Art Patron of Belarus.  The creation of Belgazprombank's corporate collection stands out as one of his most remarkable initiatives.
Belgazprom Corporate Collection is a collection of artworks gathered as part of the Art Belarus national project that intended to show the historical face of fine arts in Belarus. Currently, it features over 150 artifacts – paintings, sculptures, and books. The key items of the collection are the works by the School of Paris artists born in Belarus: Marc Chagall, Chaim Soutine, Faïbich-Schraga Zarfin, Pinchus Kremegne, Michel Kikoine, Ossip Lubich, Ossip Zadkine. Thirty-five pieces are featured in the State Register of Historical and Cultural Values of the Republic of Belarus. From 2017 until recently, a significant part of the collection was showcased to the general public in the Art Belarus gallery at the Palace of Arts in Minsk. According to state media reports, "150 paintings worth $20 million were attached to the Belgazprombank criminal case." Art experts describe the situation as an illegal takeover. As of today, the fate and location of the collection remain unknown.
In June 2020, the accounts of the crowdfunding and fundraising platforms Ulej and MolaMola were blocked. Those platforms were instrumental in providing services that Ministry of Culture, as well as the Ministries of Education, Information, Healthcare and Labor and Social Security failed to deliver. Over the past years, Ulej.by implemented a wide range of projects, including 211 initiatives dealing with the publication of books for children and adults in the Russian and Belarusian languages; 82 projects supporting theater productions, documentaries and short feature films; 92 projects in the media field (blogs, opinion writers, online news outlets); 191 social initiatives (assistance to hospitals, protection of animals and other civically useful projects); 126 projects supporting designers (apparel, accessories, creative products); as well as 88 business startups.
While the state chose to support artists loyal to the government, Viktar and Eduard Babaryka have created an ecosystem for Belarusian culture. We demand to stop the politically motivated persecution, to release Viktar and Eduard Babaryka, and "liberate" their cultural projects.
Belarusian PEN Center
Publishers of Amerykanka book series
Translators' Workshop
World Association of Belarusians "Baćkaŭščyna"
Budzma Belarusami Civic Cultural Campaign
ART Corporation Cultural Center
International theatre forum TEART
Art Siadziba
Belfilm Association
Union of Belarusian Writers
The Flying University
European College of Liberal Arts in Belarus
VZAP Cultural Center
Cross-Value Antiplatform
Press Club Belarus
Frantsysk Skaryna Belarusian Language Society
Janushkevich Publishing House
Lohvinau Publishing House
Halijafy Publishing House
Pfliaumbaum Publishing Initiative
Educational Portal Wir.by
WatchDocs International Documentary Film Festival
Belarusian Collegium
Magazine of translated literature Prajdzisvet
Yazep Drazdovich Cultural and Educational Center
Norwegian Authors' Union
PEN America
The statement is open to signing by other organizations.